5 out of 5 stars (based on 22 reviews)
The perfect Santa
My Goddaughter absolutely loved her video, and her parents loved it just as much if not more.
Father Christmas knew exactly what to say to make my Goddaughters first Christmas even more special.
Thank you Father Christmas!
The most magical Christmas Eve ever.
Santa was an absolute pleasure to chat to and he really went the extra mile to make sure that his message was personal and incredibly special.
It made Christmas Eve really magical for both the kids and adults alike. The children were totally mesmerised by Santa and his wonderful workshop. His video was a delight to watch and there were a good few tears of joy from the grown-ups. The 5 year old had been a little cynical so a massive 'thank you', Santa, for leaving her in no doubt that you are the real deal.
I can't recommend Santa highly enough. Thank you so much and I'm certain a Santa message will be a Christmas tradition for our family going forward. They're already looking forward to next year's video!
There is no more convincing Santa than this one
We didn't visit a santas grotto this year with our 4 year old but this personalised message was so much more personal than it would ever have been visiting a grotto and much better value too.
Santa had spent so much time planning what to say to her, and even printed out her letter which blew her mind seeing him hold it and read it out.
All us adults watching too have all been emotional seeing just how much care and effort Santa put into everything, from his real beard to the rosy cheeks and beautiful workshop, and seeing our daughters reaction was priceless. We can't wait for her to see him next year too!
The look on their faces
I ordered a video for my 8 and 5 year olds, the look on their faces watching it was priceless, they asked to watch again the next day and showed their grandparents. They were so pleased with how Santa knew them and spoke about each of them and were delighted to be on the good list. Such a lovely way to bring Santa to them without doing a very impersonal in person visit.
keeping the magic of Christmas alive!
I ordered a video for my 6 and 2 year old sons, and it was probably the best gift I could have given them. They couldn't believe that Santa really knew who they were and everything about them! I teared up watching them watch the video. It's amazing quality, and Santa is fantastic. I recommend this for the young and you g at heart!! Thank you so much!
Wow! The message made me tear up!
This is the second year I've ordered a video for my three Godsons. It was so incredibly lovely and personal. I've sent the video to their mum and I'm waiting for their reaction.
It's absolutely wonderful to get you in the Christmas mood. They were so pleased with themselves last year that they got to talk to Santa and I'm sure that this year's video will be received very well. I also love that part of the funds go to Crisis.
Thank you so much Santa. You're fantastic. I will definitely be ordering again next year.
Joyful
My slightly cynical daughter is nearly ten so the magic of Christmas is just about hanging in there with her but this message was everything! She beamed whilst watching such a warm and genuine Santa who knew all about her and she was captured by the magic again. I cannot recommend him enough, he was wonderful, rosy, sweet and with his very own beard too. Just brilliant!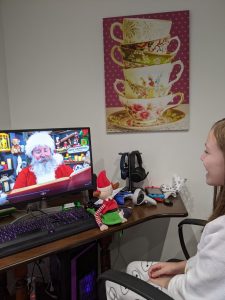 The real thing!
Santa is brilliant, very funny and kind- we had two very happy children last year and can't wait for this years personal message x
The best Santa ever!
Bringing the magic of Christmas every year to millions of children, and customers around the world. Everyone wants Santa to bring them joy during the holidays!
I would recommend Santa, to everybody!
A great present and thanks for being flexible
I ordered several videos for members of my family including "Granny" 🙂 – Santa was great in running with the joke, thanks sir!